People You'll Meet While Dancing at Or Hadash
Many more people than those listed here contribute to Beaver Folk Dancing. We'd have to list everyone who walks through the door. But here are a few who have consistently gone above and beyond over the years.


Susan Anderson took over leadership of Beaver Folk Dancing in October, 2004. She was a Beaver folk dancer from way back and often substituted on Wednesday nights when needed, Sue promotes the use of live music at dances both through her folk band, International Folk Sounds (the "IFS") and through her advocating of Open Orchestras. She also sings with Svitanya and dances with Fiddlekicks. A versatile musician, she plays keyboard, fiddle, guitar, gaida, tamboura, mandolin, balalaika.... And what a skier!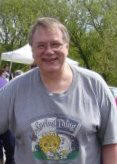 Steve Clark is a longtime folk dancer who started dancing in the Washington DC area and moved to Philadelphia in 1978. He has danced at and helped lead a number of groups over the years. Steve is currently one of the regular leaders for Tuesday Night Art Museum and Saturday night Cinnaminson folk dancing. He is available as a substitute at Folk Dance on Fridays and is also a regular at Beaver Folk Dancing and guest leads when needed.
Ricci Dichter is Ms. Event person. Just mention a special event, whether a workshop or a concert, and Ricci is carrying flyers to other groups, making announcements and telephone calls, spamming the folk world with an e-mail announcement, making humus and cutting up pita bread, and generally drumming up business. Plus, she drums the dumbek! What a whirlwind!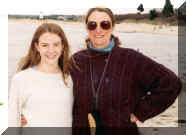 Anne Ehrhart sings with Svitanya and is Executive Director of Voloshky Ukrainian Dance Ensemble. She has been a dancer-singer with the Philadelphia Revels. She is the "woman to watch" for her grace, styling, and enthusiasm. Whether it is a difficult new dance or an easy oldie, Anne's enthusiasm is infectious. Experienced dancers will follow her, and beginners always learn from her. She has occasionally subbed on Wednesday nights when needed. Daughter Leela (also a Svitanja singer) leads occasionally too.



Peggy Leiby just does it all. She wandered in to one of our Wednesday night dance sometime back in the '80s--it seems like only yesterday--and today she is everywhere. Contra dancing, clogging with Fiddlekicks, a musician with SPUDS on recorder and concertina, Festival Director for the annual Heritage Dance Festival, maintainer of the Places to Dance web site, former Executive Director of Voloshky Ukrainian Dance Ensemble and much, much more. But she still often dances with us on Wednesday, and has been a tremendous help with our publicity: press releases, newspaper calendar listings and the like might never have gotten done without her.


John Matulis, accordionist extraordinaire and leader of ZIMA Eastern European Ensemble, has played for dancing on the second Wednesday of most months since the mid 1980s! John's wife, Dottie Yacek, a musician and singer with ZIMA, is also seen at many folk festivals as a vendor with her Eastern European Emporium, with a vast array of goods such as books, clothing, folk arts and greeting cards.
Bill and Carol Wadlinger began the Wednesday night group at Beaver College (now Arcadia University) in 1977 and continued to lead the group until October, 2004, when they "passed the torch" to Sue Anderson. (They fully expect that Sue will also lead the group for the same amount of time, which will put her in her late 80s when she passes the torch in turn!) At about the same time, Bill arranged for a Saturday night folk dance party which met for many years on the second Saturday of the month, led initially by Don Goldberg and Leila Lazar. Since then, they have arranged countless workshops, concerts and special events, often in conjunction with other organizations, including the Folk Dance Council of the Delaware Valley, the Penn Folk Dancers, the Folk Dance Center of Philadelphia, and the Folk Life Center at International House of Philadelphia.